Activity Execution
Let's get started!
We are now going to make a car powered by rubber bands! Here is what you need:
Material
Quantity
Dimension/
size/weight
(if applicable)
Alternative
(if applicable)
Popsicle Sticks
6
Standard size
-
Bottle caps
4
Standard/ soft drink bottle caps
-
Rubber Bands
5
-
-
Drinking Straw
1
-
-
Barbeque Stick
2
-
-
Elfy
1
100gm
Super glue/GMSA
Scissors
1
-
-
Great job!
---
STEP 1: Take five popsicle sticks. Join four of the end of the sticks to end and a fifth one on top.
Be careful while using the glue gun!
---
STEP 2: Cut a piece at the middle of the bottom stick.
---
STEP 3: Take another popsicle stick and place two cuts at both ends.
---
STEP 4: Paste the small piece on the top stick vertically. Attach two more popsicle pieces parallel to the top stick as support.
---
STEP 5: Cut small pieces of the straw. Attach the pieces on the top stick and bottom stick, both parallel to the sticks.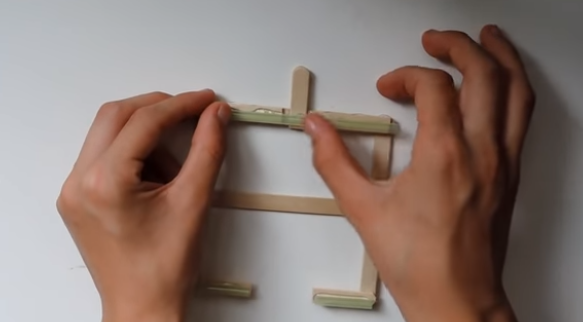 ---
STEP 6: Pass barbeque sticks through the straws at the top and bottom. Attach bottle caps on four ends of the sticks to make the tires of your car.
---
STEP 7: Attach two small pieces of sticks at the bottom stick perpendicular to it.
---
STEP 8: Put rubber bands around the wheel. Stretch the rubber band from the top popsicle stick to the bottom sticks at the bottom.
---
STEP 9: Move the car back and forth to wrap the rubber band around the bottom stick. (In this step, you are storing elastic potential energy in the car).
---
Great job! Leave your car and watch it go!
---
Give it a read!
---
References
1. https://www.solarschools.net/knowledge-bank/energy/types/elastic
2. https://www.ducksters.com/science/physics/potential_energy.php
3. http://clipartbarn.com/energy-clipart_8744/
4. https://study.com/academy/lesson/potential-energy-lesson-for-kids-definition-examples.html
5. https://www.dreamstime.com/illustration/energy-booster-kids.html
Last modified: Saturday, 10 April 2021, 1:41 PM